Client
Good Co. & Friends
Quick View
Good Co. & Friends is a pet owner consultation service that provides detailed, curated advice for animal lovers who want to be loving, responsible carers during a time when good companionship is sought for more than ever.
Check out the prototype here
The Challenge


Despite slightly improving over time, pet homelessness is still an issue that is very much prevalent in the United States. To this day, around 6.5 million pets per year enter shelters. If pets are so beloved by so many people, why are there so many without homes? To make matters worse, many pets are euthanized due to the lack of space and resources at animal shelters. How might we reduce pet homelessness through prevention and self awareness?

Good Co. & Friends is a service-based platform that aims to educate people on responsible pet care and to self analyze their own situation prior to taking in a new pet into their lives. Prospective pet carers can take a comprehensive questionnaire on the responsive website and receive results that show whether or not their current situation is suitable for a new pet. They can also sign up to Good Co. & Friends' membership program to get direct access to professional trainers who can provide them personalized solutions.


Project Goals

1
Create a web responsive site where users can take the quiz, receive their results, and learn more about the brand.

2
Incorporate bright, clever illustrations and images to keep the users engaged.

3
Have the quiz flow smoothly so users don't become tired when answering the questions.


Initial Research
I first researched how severe the pet homelessness situation is in America. Although the number of homeless pets have declined in the past decade, there are still close to millions of cats and dogs remaining in shelters. This results in many animals euthanized due to the lack of resources and space in shelters.
Data is taken from ASPCA, DOSOMETHING.ORG, The Humane Society, and Shelter Animals Count National Database


Competitive Analysis
Good Co. & Friends' competitors are other brands that offer pet services, such as Petco and Fuzzy. It quickly became evident that although there are endless resources on how to train and take care of pets, there is a serious lack in resources that help people determine if they should currently take care of a pet. Many companies tell you how to take care of a pet but not if you should even have a pet in the first place.

Online "Are You Ready For a Pet" quizzes do exist, but they tend to be very generic and brief and are not from entirely reliable sources. They do not provide solutions nor alternatives when the user gets a negative result. These online quizzes also were not easily accessible on the competitors' sites—they had to be found through search engines. Furthermore, the designs and layouts of these quizzes do not motivate people to engage with them.

The User Interviews
My goal for the user interviews was to understand why people wanted to get pets in the first place. What is the sentiment that makes millions of people seek out pets, even though many of those people ultimately abandon their pets? I interviewed a total of four people who all vary in different levels of pet care. I was also curious to see how knowledgable those without any pet experience were and if they had any hesitations regarding caring for a pet. I also wanted to see if the current pet owners could provide any insight or advice when it comes to taking care of a pet.

The most interesting find I gained from the user interviews was how all four interviewees said good companionship was the primary reason why they wanted a pet. This insight then begs the question: "What can people do so they themselves can be good companions for their pets?"
The Design
I started with detailed sketches to organize what kind of pages Good Co.& Friends' site should have. I then translated the sketches into lo-fi wireframes. I focused on simplifying the flow so that way users can get quicker to the main point and are not discouraged easily while navigating. I also paid attention to the placement of images and bold typography to not only keep the pages visually interesting, but also where they made the most sense.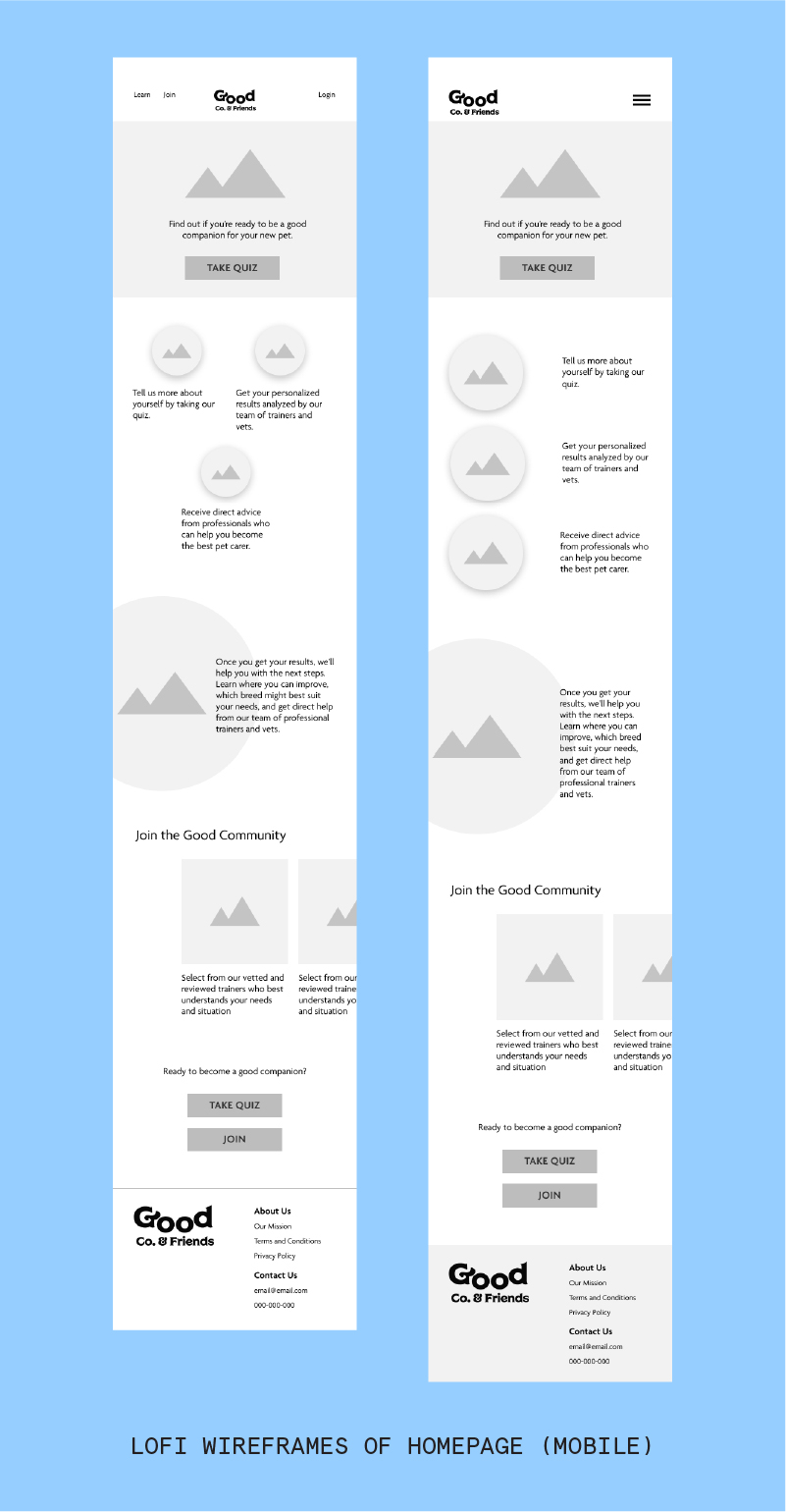 The Product
Good Co. & Friends' site is a unified portal that helps users learn more about the brand and its process through concise, easy-to-follow flows. See the prototype below.

Insights & Further Thoughts
Given that this is a self-driven project, I believe that this is a good start and this is a product that could greatly better the health and safety of pets. Ideally, I would like to conduct more interviews with not only those interested in having pets, but also pet trainers and veternarians. I would also like to collaborate with pet experts so I could gain much more insight into which features could best benefit and educate the users.

Related Project: Good Co. & Friends | The Brand (coming soon!)